This store requires javascript to be enabled for some features to work correctly.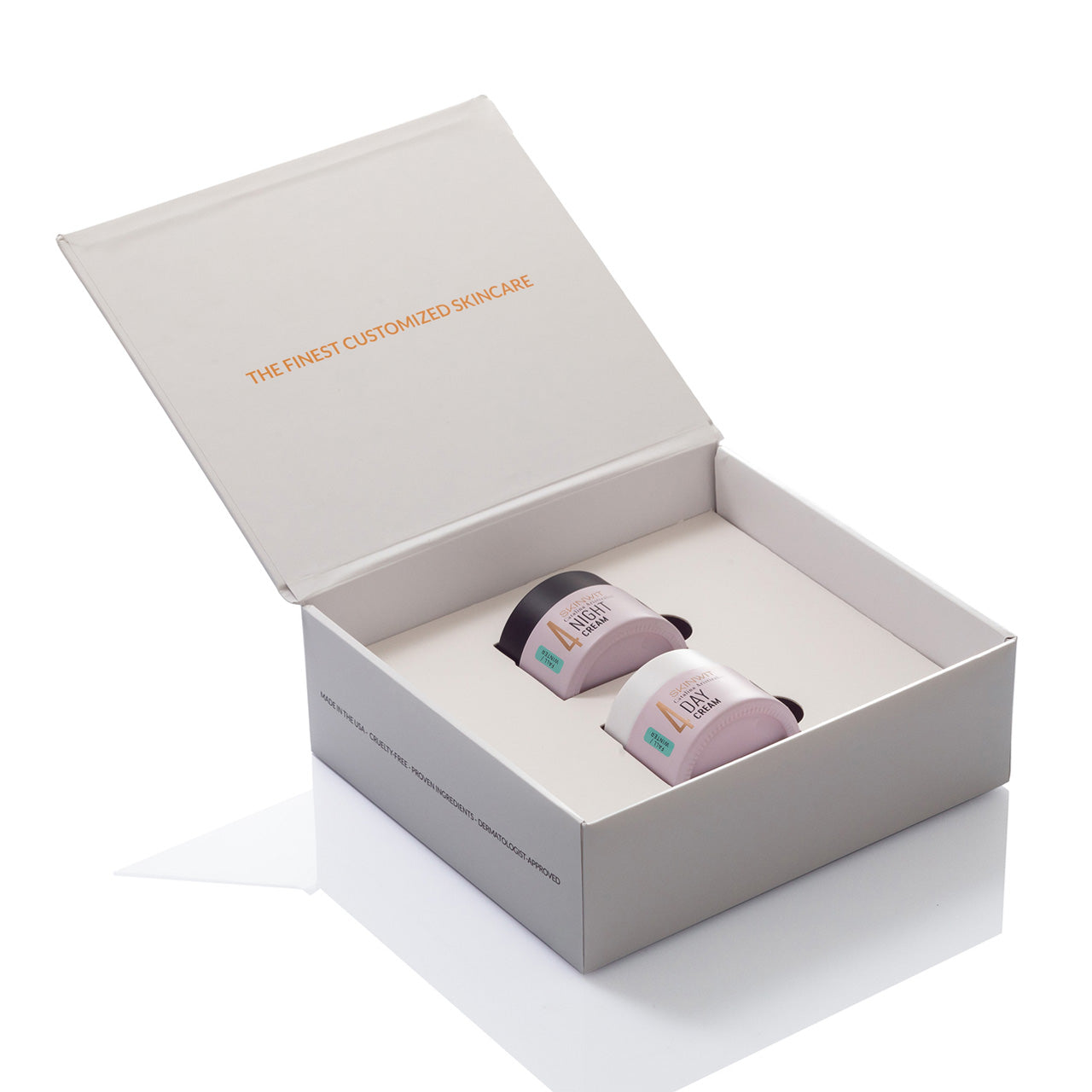 OUR MISSION
At SKINWIT, we're on a mission to save the world... or at least the skin of the women in it. We understand that each woman's skin is as unique as her fingerprint (or her personality, for that matter), and that factors like lifestyle, age, climate, and ethnicity can all play a role. That's why we've dedicated ourselves to crafting customized skincare solutions that are as individualized as the women who use them.

Our formulations are expertly crafted with the finest, science-backed ingredients and cutting-edge manufacturing techniques. We don't believe in the one-size-fits-all approach to skincare – unless, of course, that size is "perfectly tailored to your skin's specific needs." Our goal is to help your skin rediscover its youthful performance, so you can face each day with confidence and beauty, not just in spite of, but because of your skincare routine.

So say goodbye to generic, mass-produced skincare and hello to
THE FINEST CUSTOMIZED SKINCARE,
because at SKINWIT, we believe that every woman deserves skincare that's as unique as she is.
THE HUNT
FOR TRULY EFFECTIVE SKINCARE
As someone who's witnessed the daily struggle of women in his life with various skin woes, I knew something had to give in the skincare industry. My wife, a delicate-skinned superhero, and my late mother, who suffered side effects from medical issues, were my inspiration. So, I took matters into my own hands (or rather, lab coat).

You see, I have a background in healthcare and a tenure running a compound pharmacy lab, where custom prescriptions were whipped up for each patient. It was only natural to ask: why couldn't the same be done for skincare, with pure, effective, and natural ingredients? And thus, SKINWIT was born - a company that takes the concept of customized medicine to the realm of beauty.

SKINWIT started as a hypothesis, not a business plan - I was more interested in finding the most effective skincare solutions, regardless of cost. With the help of some brilliant scientists, I introduced our test product line to friends and family. The results were nothing short of amazing, but also inconsistent. Some saw truly impressive improvements, while others...well, not so much.

And that's when it hit us: the problem with the skincare industry is that it relies on a one-size-fits-all approach. Skin, you see, is a fickle creature that changes with age, ethnicity, lifestyle, and climate. No single skincare line can meet the needs of every skin type, no matter how top-notch its ingredients are.

Most skincare companies classify skin types as "delicate," "dry," "oily," and "combination." It's a profitable approach, but it ignores the real science behind skin behavior. At SKINWIT, we get it, and that's why we offer tailored products that meet the unique needs of each woman. Our only goal: to create "THE FINEST CUSTOMIZED SKINCARE." And with that, we'll leave the one-size-fits-all approach to our competitors. We'll stick to what works - for everyone.
THE ROAD TO ACHIEVE
"THE FINEST CUSTOMIZED SKINCARE"
Creating skincare that is both customized and of the highest quality is a challenge that our team faced head-on. The combination of individualized products and top-notch formulation, experience, and manufacturing quality seemed like a daunting task, but we were determined to deliver on our vision.

We knew that delivering on unmatched formulation and product experience was attainable, but when it came to manufacturing quality, we were faced with a conundrum. Traditional customization methods using small-scale devices could not provide the level of quality we desired, and large-scale production reactors, which could produce high-quality results, were not feasible for customized production.

To overcome this challenge, we designed collections for specific "personas" - each one tailored to meet the unique needs of different ethnicities. Our team spent years researching skin differences, analyzing the effects of climate and lifestyle on different ethnic types, and documenting the strengths and weaknesses of each skin type. This research led us to our first collection, "Sleepless & Gorgeous," designed for women who are constantly on the go, managing demanding careers and familial responsibilities. With stress as a constant and sleep a luxury, our collection was crafted to address the aging consequences of this lifestyle with precision.

After exploring the unique skin structures across various ethnicities, our team found 18 unique skin structure differences. With this knowledge, we created our products to address the specific needs of different age ranges, while also protecting skin from environmental stressors.

The result? A one-of-a-kind, tailored skincare experience that truly delivers. Our products not only revitalize and rejuvenate the skin, but also focus on making skin function young. The result is skin that not only looks younger and replenished, but is also stronger from within, better equipped to protect against harmful environmental factors.

We are proud to say that our journey to create the ultimate skincare collection has resulted in "THE FINEST CUSTOMIZED SKINCARE."
HOW TO BECOME "THE FINEST CUSTOMIZED SKINCARE"
At SKINWIT, our mission has always been to deliver the finest customized skincare experience to our customers. But this wasn't just handed to us, it was a journey of discovery, evaluating and perfecting six key factors that make up the backbone of our brand. Through careful evaluation of ingredient quality, formula creation by top experts, product efficacy, efficient manufacturing processes, a seamless user experience, and a commitment to safety and transparency, we have found the formula for delivering the best skincare solutions tailored to each persona.

Here's how SKINWIT performs on all these factors.
1. Ingredient Quality

Our scientific team won't settle for anything less than the purest and most potent active ingredients, backed by prestigious published studies. And they don't shy away from putting in the work ensuring the quality of each ingredient and its analysis. They are meticulous in evaluating the ingredient's:

Identity: We make sure the ingredients we plan to use are the ones that end up in our products, no sneaky swaps allowed.
Purity: Our ingredients must be free from harmful substances like bacteria, heavy metals, and contaminants. We don't believe in hidden surprises.
Potency: The ingredients must contain the right amount of the active ingredient, as close to 100% as possible.
Shelf life: Freshness is key to performance, which is why our active ingredients have a strict expiration date policy.
Composition: Our ingredients undergo a thorough evaluation of their chemical makeup, including appearance, pH, osmolarity, and consistency. We like to know our ingredients inside and out.

In general, a reputable skincare company should have in-depth knowledge of the raw materials that are clearly defined with respect to their composition, quality, toxicological, clinical, and cosmetic safety data.

Furthermore, the substances used in cosmetics should have a safety assessment verifying that, at the concentrations used, they do not have the characteristics of endocrine disruptors as defined by the World Health Organization.

We take the adage "less is more" to heart. By using only the finest and most potent ingredients, we promise to deliver radiant, youthful skin - no puffery necessary.
In the world of skincare, it's important to have a deep understanding of the raw materials. At SKINWIT, we not only have a clear definition of our ingredients' composition, quality, toxicological, clinical, and cosmetic safety data, but we also ensure that the substances used are safe and don't have the characteristics of endocrine disruptors, as defined by the World Health Organization. Because, who wants a disruptor in their skincare routine? Not us.
2. The Formula and Its Creators

Indulge in the Best of the Best

Imagine being offered a gourmet meal cooked by a world-class chef - wouldn't you jump at the opportunity? You know that the quality would be unbeatable. At SKINWIT, we believe that the same principle should apply to skincare. That's why we've gathered a team of the best skincare professionals to craft our products with the utmost care and expertise.

Our formulas are created by a team of brilliant scientists, including dermatologists, biochemists, botanists, and other top experts in the field. These are the people who know exactly what they're doing and how each ingredient works to help you get the best results. All of the ingredients in each formula work together seamlessly to heal and rejuvenate your skin as quickly as possible, addressing every concern. And, we often use Nobel Prize-winning technologies to create our cutting-edge formulations.


Indulge in the finest, most expertly crafted skincare products available - trust SKINWIT to bring out your skin's best.

3. Efficacy

A good skincare routine should be experienced as a "Holy Grail," meaning it should effectively keep your skin functioning at its best. SKINWIT products are designed to perform a range of tasks, from boosting energy to providing complete nutrition, cell recovery, and protection, both in the short and long term.

Our only goal is to make your skin work like it did when it was younger and to continue to do so over time. By doing so, you'll start to see your skin look younger, and your skin-aging concerns will diminish significantly. Think of SKINWIT products as the daily "cardio" your skin needs, much like how we do cardio exercises to keep our heart healthy and make us feel younger and energized. This emphasizes the effectiveness of the ingredients in our products.

Efficacy in skin products is measured by the ability to reverse the many physiological skin changes that arrive as we age. Products must protect the skin from environmental damage to its cells and provide all the nutrients necessary to reverse DNA detriment.

The efficacy of skincare products is determined by several factors, including formula quality, ingredient quality, ingredient quantity, ingredient synergy, manufacturing quality, and user experience. When all these factors are of optimum quality and potency, the product will be more effective.

Ingredients Synergy: When two or more ingredients are combined in a formula, the way they work together can either enhance each other's performance or result in a new effect. The outcome can be largely positive or negative, depending on the specific ingredients and their strength used in the formula

4. Manufacturing

Have you ever considered that a skincare product's superiority is not just determined by its ingredients and formula? Let us delve deeper.

Manufacturing quality, you see, plays a critical role in determining the final outcome of a product. And when it comes to manufacturing, two key considerations are location and process.

Take "Where" for instance. If a product boasts of being made in the USA, it speaks volumes about its quality. The strict regulations and standards of American manufacturing guarantee that the product will be of the finest caliber.

And then there's "How". For a top-notch product, every step of the manufacturing process must be executed with precision. From the machines used to the handling of the product, the sanitation and safety measures, and the quality control protocols, nothing should be left to chance.

At SKINWIT, we feel safe and proud to manufacture our products in the USA, where they undergo rigorous and state-of-the-art manufacturing processes. So, you can trust that what you put on your skin is of the highest caliber.

5. User Experience

A product's success is not just about its ingredients and formulation, it's about the entire user experience. When women invest in skincare, they want to feel good about using it - every step of the way. That's why at SKINWIT, we put just as much thought into the packaging, instructions, and texture as we do into the products themselves.

Consider our packaging - we've made it intuitive, so women can identify their products at a glance, without struggling to read small font. The DAY SERUMS and CREAMS have a white cap, NIGHT SERUMS and CREAMS have a black cap, and products for both day and night use have a black cap with a white line. No need for reading glasses, simply scan the QR code for an instructional video.

Texture is just as important as packaging. A product that takes too long to use just won't do. That's why our products are formulated for quick and easy application, ensuring a seamless integration into even the busiest of lifestyles.

And what about the end result? After around 45 days of use, you'll start to see and feel the difference in your skin. It will look brighter, feel smoother, and others will start to take notice, too. A few compliments here and there about your glowing complexion should come as no surprise.

We believe that a great skincare experience should be effortless, enjoyable, and result in noticeable, beautiful skin. That's why at SkinWit, we've taken extra care with our packaging to make it both functional and stylish. Here's what you can expect from our packaging:


Color Coding by Ethnicity:

A bottle hue as unique as your skin tone has been assigned for each ethnicity.

Readable Routine Numbers:

Don't let a lack of numerical literacy impede your skincare routine - each product features a prominently displayed numerical designation, spelling out its place in the grand scheme of things.

Day and Night Designation:

The lid and cap colors of each product are like traffic signals for your skin - a quick glance will tell you whether to proceed with caution or hit the gas.

Simplified Instruction Access:

No need to strain your eyes deciphering microscopic text - a QR code linking to either the product page or instructional video has been provided, saving you time and headaches.

Sanitary Application:

Keep your products pristine and bacteria-free with the handy spatula included with each cream. Your skin will thank you.

Measured Dosing:

Say goodbye to the guesswork - the serum droppers dispense a precisely calculated amount, ensuring you use just enough product to achieve a flawless complexion, without going overboard.

Eco-Conscious:

Our products are packaged with the planet in mind - fully printed glass bottles protect against harmful UV rays and are recyclable, and cosmetic bags made from cotton or recyclable materials replace individual product boxes. All box materials are made from recycled or fully recyclable cardboard, making it easier to be both beautiful and environmentally responsible.

Fragrance-Free:

Aroma-sensitivity need not be a hindrance to your skincare routine - our products are free from added perfumes and have a subtle scent, with natural vanilla orchid extract providing a touch of pleasant aroma. Your nose will thank you.
6. Safety & Transparency

SKINWIT is on a mission to save your skin from harmful ingredients. Our products are free from parabens, silicones, mineral oil, phthalates, petrolatum, essential oils, formaldehyde, cocamide DEA, propylene glycol, triclosan, myristyl myristate, GMOs, nitrates, SLS & SLES, artificial colorants, synthetic fragrances, paraffin, alcohol, and EDTA. No harmful ingredients? No problem.

Not only are our products safe for your skin, but they are also safe for our furry friends. With a Leaping Bunny certification, you can be confident in your purchase knowing it's not only safe for you, but for the animals too. Leaping Bunny is the only internationally recognized organization that guarantees no new animal testing in product development, so you can be sure that your beauty routine is not only good for you but for the planet as well.

And to put the cherry on top, all SKINWIT products have received the stamp of approval from dermatologists, ensuring both safety and efficacy. So go ahead, give your skin the TLC it deserves, without worrying about harmful ingredients or pesky animal testing. A Leaping Bunny certification is the ultimate symbol of a beauty routine that's not just good for you, but good for all.
RECOGNIZING THE TRUE JOY OF LIFE LIES IN GIVING BACK.
At SKINWIT, we're passionate about championing a cause that tugs at the heartstrings, one that nurtures and elevates the wit of remarkable women.

With every kit purchased, we sow the seeds of change by dedicating $20 towards educating women and providing aid to those in need. So, go ahead and treat yourself to a skin-perfecting shopping spree - you'll not only be doing wonders for your own complexion, but you'll also be positively impacting someone else's life.
TRANSFORM YOUR SKINCARE ROUTINE
Say hello to a personalized approach tailored to your skin's specific needs.
Streamline your routine and reveal your natural youth.

We understand that trying something new can be daunting,
which is why we offer a 45-Day Money-Back Guarantee.
Your satisfaction is our top priority. So why wait? Take the first step towards a more confident you with SKINWIT. Embrace your best self and experience the difference of
THE FINEST CUSTOMIZED SKINCARE.