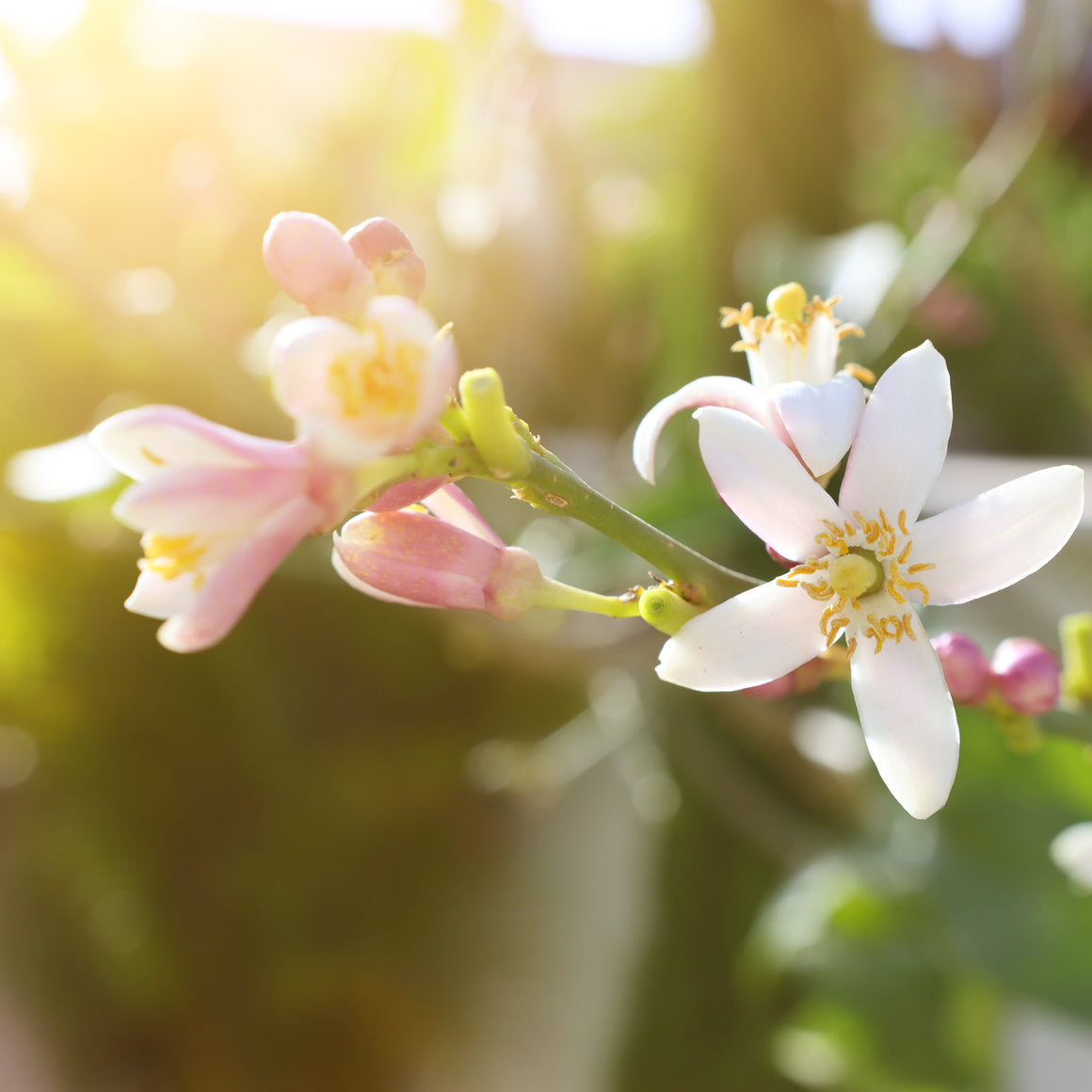 Neroli Floral Water for Skin: The Benefits and How to Use It
Known for its sweet scent and relaxing and therapeutic properties, neroli floral water is a skincare savior. You may already be familiar with this multi-purpose ingredient if you're a fan of essential oils. Neroli, also known as Citrus Aurantium, has anti-inflammatory properties that help to rejuvenate and regenerate skin. 
Many widely available beauty products are formulated with neroli. It can be found in moisturizers, creams, oils, and perfumes. If you desire brighter, firmer, and younger-looking skin, you might want to give neroli floral water a try. 
The Basics
With anti-inflammatory, antibacterial, and antimicrobial properties, neroli floral water is highly safe and effective on all skin types. It can be mixed into skincare products such as moisturizers, creams, and serums. Remember to avoid the eye area on application, and always subject new ingredients to a patch test before applying broadly to the skin.
Neroli floral water can help with:
Minimizing the appearance of fine lines and wrinkles

Improving skin elasticity 

Improving the appearance of scars and stretch marks

Balancing oil production 

Relieving dry skin

Toning the complexion 
What is neroli floral water? 
Derived from the delicate white flowers of bitter orange trees, neroli floral water is a plant-based extract that is obtained through a process of dilution via the water-soluble component of the flower. Neroli is also available as an aromatic or essential oil. Although the bitter orange tree is native to Vietnam, they are grown throughout the world. 
As a standalone ingredient, neroli floral water is traditionally produced in formulations of 30-50% potency and has been used in perfumes and bath products for years. Its beautiful fragrance and its suitability for all skin types are just some of the reasons why it is such a sought-after ingredient in the skin care community. 
What makes neroli floral water so special?
Neroli floral water is one of the most widely used ingredients in perfumery, but in addition to helping us smell amazing, it can also be beneficial for skin health. Neroli floral water is a natural, non-toxic ingredient that is made from water and natural alpha hydroxy acid, which is renowned for its cleansing and exfoliating properties. It contains skincare heroes Vitamin C and Vitamin B complex, both of which promote healthy cells and reveal younger, firmer, and radiant-looking skin. 
Alpha Hydroxy Acids (AHAs)
Reduces fine lines 

Eliminates dead skin cells to reveal brighter-looking skin 

Reduces the size of pores 
AHAs are a type of hydroxy acid made from sugary fruits. They are used as an exfoliator in skincare products such as toners, serums, and creams. Some AHAs that are extremely popular in the skincare space include lactic acid, glycolic acid, and citric acid. 
Exfoliating is essential for optimum skin health. Our skin sheds dead skin cells every 30 days, and when this happens, new cells form the top layers of the skin. By peeling away the skin's surface, AHAs clear the way for evenly pigmented cells to be generated.  This softens skin and makes it smoother to the touch. 
For brighter and clearer skin, look for an exfoliating product that contains AHAs. For oily/combination skin types, establishing a regular exfoliating routine will help prevent pore clogging and acne spots. 
Although AHAs are safe for all skin types, try to introduce one product at a time into your routine. If you have dry or sensitive skin, you might want to work up to daily use to avoid irritation. Also, be mindful that AHAs such as lactic acid increases the skin's sensitivity to the sun, so always wear sunscreen with an SPF of at least 30 to protect yourself.
Vitamin C
Slows down signs of aging

Brightens skin by improving the appearance of dark spots

Protects against sun damage

Heals blemishes 

Increases skin firmness 
Vitamin C (also known as ascorbic acid) is a nutrient that plays an important role in keeping skin healthy. Although you can get Vitamin C from fruits and vegetables, a study has found that applying it topically is more effective than consuming it for skin health. When applied topically, Vitamin C brightens, firms and hydrates the skin. It also protects skin from damage caused by free radicals. 
Topical Vitamin C is absorbed directly into the top layers of the skin. If you are looking for an ingredient that gets to work immediately, then Vitamin C might be just what your skin needs to thrive. Expect smoother skin, fine lines, and a more even skin tone, as well as protection against environmental stressors. 
If you haven't incorporated Vitamin C into your skincare routine, it's best to start small so that your skin can get used to it. There are Vitamin C-infused products that contain concentrations as low as 1% and still deliver skincare benefits. If you decide to opt for formulations of 5% and higher, be sure to read and follow the instructions on the label and also pay attention to how your skin is reacting to the ingredient as a whole for the first month as this is how long it takes for Vitamin C to work. 
You can find Vitamin C in all kinds of skincare products, including moisturizers and serums. As serums get to work much more quickly than moisturizers, you might find them to be the better option for your skin's specific needs. Always remember to do what's right for you and your skin. 
Vitamin B Complex 
Improves and maintains complexion

Improves moisture retention

Prevents cell damage

Prevents dark spots and pigmentation
Vitamin B complex comprises eight different vitamins, ranging from B1 to B12. It supplies essential fatty acids to the skin, preventing cell damage and water loss which promotes plumper and younger-looking skin.
Skincare enthusiasts will be familiar with vitamin B3, which goes by the name of niacin. Niacin is used to make niacinamide, which is renowned for its ability to completely transform the skin. Niacinamide is a multi-purpose ingredient that can treat everything from acne to dehydration to excessive oiliness and pigmentation. It's no wonder that it was one of the most searched-for skincare ingredients in 2020 and 2021. 
Other B vitamins that are used in skincare include panthenol, which is suitable for dry skin types, and biotin, which is well known as a hair supplement but also plays a role in the formation of healthy and nourished skin via fatty acids. 
To incorporate Vitamin B into your skincare routine, you might want to consider using products that are infused with niacinamide, panthenol, and biotin first. Additionally, you can experience all of the skin benefits that B vitamins have to offer through dietary consumption or supplementation. A study found that taking a vitamin B complex supplement could help wounds heal more effectively.
Although a few B vitamins are used in skincare products, they all boost skin health in their own unique way, so if you want to reap all of the benefits that this vitamin has to offer by taking a supplement, consult a medical professional beforehand. Vitamin B is suitable for all skin types, particularly anyone who wants to reverse signs of aging and soothe sensitive skin. 
What does neroli floral water do for skin? 
Balances oil production
Although neroli floral water has properties that can benefit all skin types, its antibacterial, anti-inflammatory, and antiseptic properties make it ideal for oily skin. If you have oily skin but just aren't sure how to balance it out, neroli flower water may be just what you need as it removes excess oil without overdrying the skin. 
Searching for the right toner when you have oily skin can be challenging, so if you have opted to go down the natural route, neroli floral water can help. It can be used as a toner or added to a face mask for smooth, balanced, and glowy skin. 
Locks in moisture 
Dry, sensitive, and oily skin types might shy away from moisture because they assume that it will make their skin issues worse, however, this is far from the case. Skin needs moisture in order to thrive. A good amount of moisture also prevents skin problems so if you desire clear, soft, and problem-free skin, always moisturize! 
Neroli floral water can help lock in moisture within your skin's layers thanks to its water-retention properties. In colder months, dry air depletes the moisture content of skin—so introducing a product like neroli floral water into your skincare routine can help prevent moisture loss and keep skin hydrated. When skin is well moisturized and hydrated, it looks more youthful. Research suggests that regular use of neroli floral water is one of the most efficacious ways to improve moisture levels and overall skin health.
Anti-aging
As we age, skin becomes thinner and starts to sag. When natural collagen production starts to slow down, cell structures weaken, leading to the formation of wrinkles. As the body starts losing collagen around the age of 30, it is easy to understand why teenagers and 20-somethings are preparing for the future by incorporating anti-aging products into their routines. 
Neroli floral water is a great alternative to traditional anti-aging products as it cleanses and tightens the skin, delaying the formation of fine lines and wrinkles. It also fights the free radical damage that can speed up the aging process, so if you want younger-looking skin without breaking the bank, give neroli floral water a try. 
Pigmentation 
Pigmentation comes in many forms and it can be difficult to treat as there isn't a one-product-fits-all approach. What makes neroli floral water so great for pigmentation is that it's extracted from citrus fruits, which are a great source of Vitamin C and Vitamin B complex. Both ingredients work to even out the skin without leaving it looking dry. Neroli floral water reduces acne scarring and dark spots by regenerating skin cells. 
A common concern among many people with pigmentation is using products that might worsen the condition over time.  As neroli floral water is plant-based and 100% natural, you won't have to worry about how your skin might react to harsh chemicals. It is also non-drying and non-irritating, which is a bonus as hyperpigmented skin can be quite sensitive.  
FAQ
Is neroli floral water the same as neroli essential oil?
No. Floral waters are obtained when aromatic compounds and water are blended together, while essential oils are produced when plants are distilled. The latter happens without the addition of water. Essential oils are quite potent, which is why they should be used with care. Floral waters are much more gentle on the skin and are safe enough to be combined with skin care products. 
Is neroli floral water vegan?
Neroli floral water is extracted from plant sources, so it is safe for vegans to use. If you are using neroli floral water that has been formulated in combination with additional ingredients, check the label before you use the product to ensure that it is vegan-friendly. 
Does neroli floral water have any side effects? 
There aren't any reported side effects of neroli floral water, but as with any ingredient you incorporate into your skin care routine, carefully observing how your skin reacts is important. If you experience irritation or any other type of reaction, stop using the product immediately. 
References