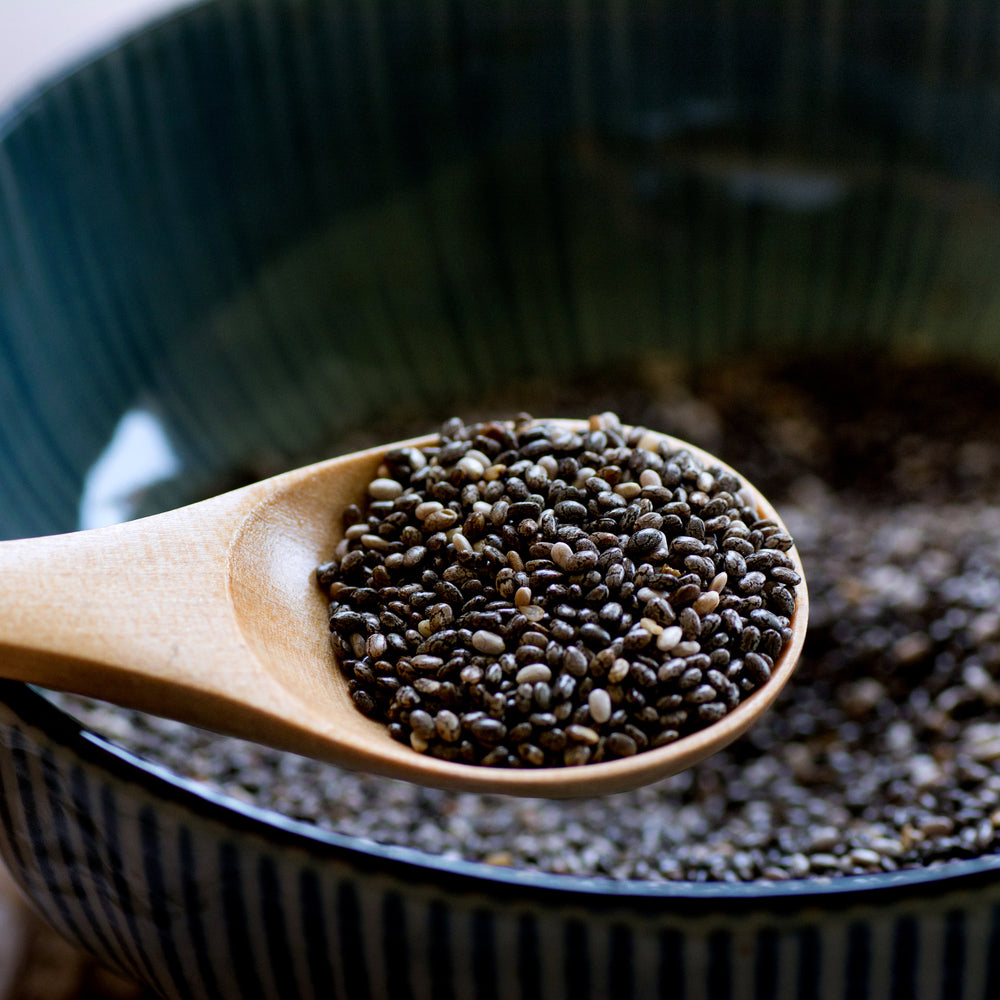 How Chia Seed Oil Supports Healthy, Youthful Skin
You've probably heard of chia seeds: the tiny, black and white nutritional powerhouses used in healthy recipes like smoothies, salads, and breakfast bowls. You may not know that chia seeds are also superstars for skincare. Thanks to their high concentration of protein, omega fatty acids, and fiber, chia seeds are highly effective for supporting skin health as well as other vital organs and systems. 
Chia seeds can be pressed into a light, fragrance-free oil to derive maximum skincare benefits. This powerful plant extract is known for reversing physical signs of aging, providing deep hydration for the skin, and healing blemishes and scars.
The Basics
Chia seed oil is a standout natural skincare ingredient. It can be applied to the skin directly, included in products like serums and moisturizers, or even ingested. This extract can help with:
Improving moisture content

Reducing fine lines and wrinkles

Restoring youthful radiance

Healing inflammation and irritation

Strengthening the skin's protective barrier

Eliminating sunspots and cosmetic damage
What is Chia Seed Oil?
Chia seed oil is extracted from the seeds of chia plants, or Salvia Hispanica, a flowering plant in the mint family that is native to Central America. The oil is packed with minerals, vitamins, protein, omega fatty acids, dietary fiber, healthy fats, polyphenols, and antioxidants, offering a multiplicity of health benefits.
What Makes Chia Seed Oil So Special?
Despite their miniature size, chia seeds pack a punch with bioavailable compounds that work miracles for the body. Some of the most beneficial components of chia seed oil are polyunsaturated fats and antioxidants.
Omega-3 and Omega-6 Fatty Acids
Provide essential dietary fats

Support organ function

Anti-inflammatory

Hydrating
The body's major organs, including the heart and brain, rely on specific nutrients that can only come from food or supplements. Omega-3 fatty acids fall into this category. Chia seed oil contains about 65% omega-3s (alpha-linolenic acid), the highest concentration that can be obtained from any plant source. The rich fatty acid content is a significant reason for the popularity of chia seeds among health-conscious eaters as a dietary supplement. 
The omega acids found in chia seed oil can also transform the appearance and vitality of the body's largest organ: the skin. Thanks to the moisturizing properties of omega fatty acids, chia seed oil can soften, plump, and hydrate skin, reducing fine lines and wrinkles.1 Omega acids also produce anti-inflammatory effects, making chia seed oil an effective treatment for people suffering from chronic inflammatory conditions such as eczema and atopic dermatitis.2
Antioxidants
Protect against environmental stressors

Prevent premature signs of aging

Fortify cell membranes

Neutralize toxins
Chia seed oil contains a wide range of potent antioxidants like kaempferol, caffeic acid, quercetin, myricetin, and chlorogenic acid.
Antioxidants help balance numerous bodily systems by neutralizing potentially harmful free radicals: reactive, oxygen-based molecules. In excess, free radicals can lead to a dangerous condition known as "oxidative stress." This condition, if left untreated, can damage DNA and other cellular components, aggravating the risk of serious complications such as skin cancer.
Thus, antioxidants are a crucial part of healthy nutrition and skincare. As a source of antioxidants, chia seed oil can help prevent the premature onset of physical aging, strengthen the skin's barrier, and reduce harm from environmental pathogens such as UV rays, pollution, smoke, and dirt.3 
What Does Chia Seed Oil Do For Skin?
[Graphic of woman applying face oil, or can use stock photo]
One of the most sought-after ingredients in moisturizers and anti-aging formulations, chia seed facial oil is an effective all-around skincare ingredient that can be useful for a wide range of skin types and conditions. Its benefits include fortifying and protecting the skin, relaxing wrinkles, treating inflammation, and restoring a radiant countenance.
Because it blends easily and holds up over time, chia seed oil is an ideal ingredient in cosmetics and skincare products. High stability and non-greasiness make chia seed oil jive well with other components in cosmetic formulations like lip creams, serums, and hair masks. The non-oxidative properties of chia seed oil also improve its shelf life and reduce the risk of deterioration when the formulation is exposed to light or sun.
Used directly as a topical facial oil or applied as a component of other skincare products, chia seed oil improves the health and appearance of skin across multiple metrics.
Protecting Skin From Harsh Weather
Strong or polar weather conditions can damage the protective layers of skin, causing extensive water loss, dehydration, irritation, and itchiness. Chia seed oil can help combat these conditions. Because of its hydrating properties, the ingredient is widely used in winter skincare products to protect and strengthen the skin barrier while reducing trans-epidermal (skin surface) water loss.1 
Chia seed extract is rich in vitamins, minerals, high-quality proteins, and exceptional fatty acids. These qualities make chia seed oil an excellent emollient, which smooths out and softens the skin, reducing itchiness and flaking. Chia seed oil is also an excellent moisturizer. By providing deep rehydration, chia seed oil makes the skin plumper and more supple. 
Reversing the Signs of Aging
Because of the moisturizing properties of chia seed oil, it is a highly effective anti-aging treatment. Greater hydration helps reduce fine lines and wrinkles by plumping the skin, thereby restoring natural, youthful radiance. Hydrated skin is supple, elastic, and smooth. 
Chia seed oil also replenishes the protective membranes of skin cells, guarding against future damage from harmful UV rays and other environmental stressors. Chia seed oil is therefore an excellent preventive skincare treatment to slow down the formation of wrinkles.
Smoothing Skin Tone
Sun exposure and physical aging can contribute to irregularities in skin tone. Research shows that chia seed oil can inhibit the production of melanin pigment (also known as melanogenesis), which reduces sunspots and improves the aesthetic appearance of the skin.4 
In addition to eliminating sunspots and depigmentation, chia seed oil can dramatically reduce redness. A study showed that the application of chia seed oil over eight weeks significantly improved dryness and itchiness in patients with xerotic eczema, producing the additional benefit of more even skin tone.2
FAQs
What's the best way to use chia seed oil for skin health?
You can apply pure chia seed oil directly as part of your daily skincare routine or use formulations containing the extract. 
To maximize the absorbance of chia seed oil into your skin, apply it while the skin is still damp after thoroughly cleansing. Using this product in the morning is extra beneficial as its antioxidant properties can protect against various environmental stressors encountered throughout the day. 
If clearing up sunspots is your primary goal, try combining chia seed oil with pomegranate extract. Research suggests that components of pomegranate fruit can potentiate the anti-melanogenic effects of chia seed oil.4
Is chia seed oil vegan?
Chia seed oil is a 100% plant-derived compound. If you are using a formulation that has other ingredients in addition to chia seed oil, check the label to make sure the product is vegan.
Are there any side effects associated with chia seed oil? 
Chia seed extract is a safe and effective ingredient with minimal or no adverse side effects on the skin. It is well-tolerated by various skin types and can be applied on irritated, inflamed, or acne-prone skin. However, it's best to check with a healthcare provider before adding any new element to your skincare routine, and chia seed oil should, of course, be avoided by those with an allergy to chia seeds.
References