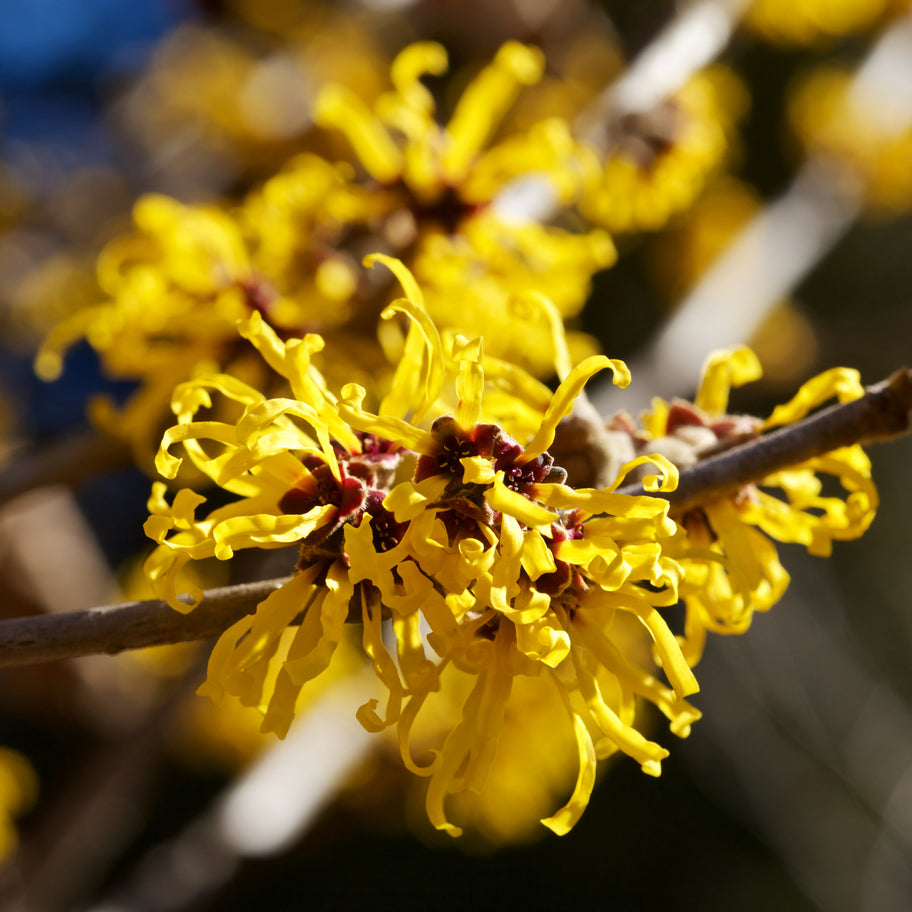 Is Witch Hazel Right For You? 10 Benefits and Things to Consider
Witch hazel has long been a staple in skincare cabinets for a variety of skincare and medicinal treatments. This botanical extract has numerous therapeutic properties, including soothing, anti-inflammatory effects and skin-tightening astringent powers that offer an instant lift and smoother appearance.
Witch hazel can be a fantastic treatment and toner for some, but it may not be for everyone. Read on to learn about its exact recommended uses and core benefits.
The Basics
Witch hazel has been used for centuries to address a variety of cosmetic concerns ranging from acne management to photoaging.
Three potent attributes give witch hazel its effective powers as an active ingredient in skincare products:
Astringent

: tightens skin to improve texture and tone

Anti-inflammatory:

soothes painful burns, bumps, and irritation

Antioxidant:

clears up damage from sun exposure
Because it is such a strong substance, witch hazel can further irritate sensitive skin in some cases. 
Be sure to follow these steps to avoid adverse side effects:
Test the product

on a small area before implementation

Choose

alcohol-free

witch hazel formulations 

Always moisturize

after using witch hazel
What Is Witch Hazel?
Witch hazel (also known as Hamamelis Virginiana) is a naturally occurring plant indigenous to the United States. The plant has a long history of use among Native Americans for medicinal purposes, and its extract is now a popular astringent commonly found on drugstore shelves. 
Witch hazel is one of the only FDA-approved botanical skincare treatments. In addition to cosmetic skincare benefits, witch hazel extract can be used to manage varicose veins, hemorrhoids, and hemorrhages. It can be applied as a tincture or consumed orally in herbal teas.
What Are the Skincare Benefits of Witch Hazel?
Witch hazel is highly valued for its ability to soothe and heal swollen, inflamed skin. People have been using witch hazel for centuries to improve these symptoms, whether resulting from disease, infection, environmental exposure, or everyday activities like shaving. Many skin ointments and lotions contain witch hazel extract as a key ingredient.
Soothing irritation.

Because of its anti-inflammatory and antioxidant properties, witch hazel is widely used in skincare products to

treat mild to moderate conditions

, including wounds, redness, blemishes, bug bites, and sunburn. 

Post-shave relief.

If you have sensitive skin, you're no stranger to the "strawberry" effect: red, painful bumps that appear across your skin after shaving. These razor bumps develop due to too much skin friction while using a razor or because of ingrown hairs. When applied to the skin after shaving, witch hazel can soothe inflammation and reduce the risk of developing razor bumps. Witch hazel also contains tannins that reduce redness and swelling after razor bumps occur.

Anti-aging treatment.

As we age, our natural collagen production begins to decline. The decline in collagen results in a loss of skin elasticity and suppleness, which leads to the emergence of wrinkles and the development of sagging. When your skin loses its tone, pores appear more prominent and your skin may feel more rough and uneven. Witch hazel is an

effective astringent

, which can cause the skin to contract slightly. The astringent effect minimizes pores for a smooth, glowing look, and can also reduce the appearance of fine lines and wrinkles.

Witch hazel is rich in tannins

, which cause contraction of lax tissues to give your skin a youthful appearance.

Non-drying toner.

Witch hazel is an excellent toner that lifts excess oils from the skin for improved texture, but

unlike most alcohol-based toners, witch hazel does not dry out the skin

.

Protective fortifier.

The tannins and polyphenols present in witch hazel serve as anti-inflammatory and soothing agents to calm irritated skin, which stabilizes skin barrier functions. This makes the skin more resilient against microorganisms, harsh weather conditions and environmental toxins such as UV rays.

Superior moisturizer.

Extreme weather in the winter and summer can disastrous effects on the health of skin in the absence of a vigilant skincare regimen. When exposed to these conditions, your skin's moisture evaporates more rapidly leading to irritated, inflamed skin. Compared to other moisturizers found in acne medications, like aloe vera and glycerin,

witch hazel is considered superior

especially because of its anti-inflammatory benefits.

Sun damage healing.

The powerful antioxidants and polyphenols found in witch hazel allow it to

fight reactive oxygen species and free radicals

, which may help delay the onset of photoaging.

Acne reducing.

Excess production of sebum or oil from the skin allows accumulation of dirt and dust particles on the skin. In the absence of a vigilant skincare regimen, these dirt particles and oil trapped in the skin causes clogged pores that may lead to the acne and breakouts. Witch hazel helps prevent excessive oil buildup on the skin and reduces greasiness. This makes it a very effective ingredient for people who suffer from acne or scarring. You'll find witch hazel incorporated in various acne as well as post-acne hyperpigmentation management skin care products. 

Deep cleansing.

Washing your face with just water can only remove excess oil from the skin surface. As an astringent, witch hazel can penetrate your skin and cleanse it more effectively from the inside out.
Who Should Use Witch Hazel?
While the skincare benefits of witch hazel are extensive, it may not be suitable for all skin types. For example, people with especially dry or sensitive skin may want to steer clear of astringents like witch hazel as they are more susceptible to losing moisture and experiencing irritation. 
If you have a skin condition such as psoriasis, eczema, or rosacea, it's best to avoid witch hazel as it can further aggravate your symptoms. 
For those who can tolerate witch hazel, it's an excellent all-around anti-inflammatory spot treatment and toner. To see if witch hazel works for you, like any new skincare product, it's recommended that you test it on a small patch of skin before using it to ensure that no irritation is caused.
How Should Witch Hazel Be Applied?
Before incorporating witch hazel in your skincare routine, you'll want to make sure you're using the right kind of products. Anyone using witch hazel should be sure to keep the following guidelines in mind:
Use only ethanol-free witch hazel products.

Some commercial witch hazel products contain alcohol, witch can dry out the skin and irritate damaged skin even further. Check product labels to make sure your witch hazel is free of ethanol.

Make sure your skin stays hydrated.

Hydration is of the utmost importance in skin health, and it should be prioritized in any skincare routine. If your skin becomes dehydrated, the skin barrier can become weakened. Your skin barrier is responsible for retaining moisture, keeping your skin fresh and pump. It also provides protection against harmful bacteria and germs that can increase the risk of developing issues like rashes. Therefore, it's critical to use a

high-quality moisturizer

after applying witch hazel extracts to avoid any drying effects.
Once you've completed your patch test, selected the right witch hazel product, and picked out your moisturizer, you're ready to experience the benefits. 
For best results, witch hazel should be applied to dry skin after cleansing your face and before applying any makeup. Using a cotton pad to gently wipe the product onto your skin will help pick up any excess oil. Moisturize immediately after the product incorporates into your skin.
When using witch hazel to treat a particular problem area, holistic practitioners advise dabbing the extract on in small quantities to avoid spreading any infection from the affected region.
FAQ
Is witch hazel safe?   
Witch hazel is a safe, FDA-approved treatment for a wide range of skin conditions and cosmetic applications. However, not everyone tolerates witch hazel well. Different skin types react differently to different products, and there is no one-size-fits-all solution. As with any new skincare product, it's critical to test witch hazel on a small, hidden area of your skin before applying it broadly. 
Is witch hazel vegan?
Witch hazel is derived from plants and is free of animal products on its own. When using witch hazel products, double-check the label to make sure any other included ingredients are vegan.
References